Calf of Man bird numbers 'highest for 28 years'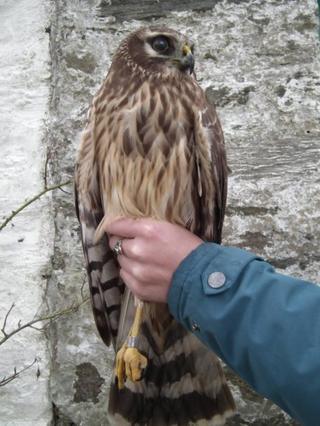 Wildlife wardens have recorded the highest number of migrating birds visiting the Calf of Man for 28 years.
About 7,500 birds have been ringed at the island's bird observatory since May, the highest number since 1989 when the figure was 10,891.
After being caught in fine nylon nets, the birds are ringed to enable scientists to monitor population trends and changes in migratory patterns.
Aron Sapsford said the visitors included "a number of rarities".
He added: "We recorded an adult male red-footed falcon in May which was only the fifth ever recorded under the British Trust for Ornithology scheme.
"The increased numbers are partly down to effort but also to excellent periods of migration, particularly during the Spring when we experienced a long spell of easterly winds which brought many birds.
"Although the weather hasn't been great this autumn, when we have had calm days there have been thousands of birds migrating through the Calf," Mr Sapsford continued.
The Calf of Man is a rocky islet of 616 acres, half a mile off the south-west coast of the Isle of Man.
Since 1959, organised ornithological work has been carried out on the Calf of Man under the supervision of appointed wardens, in 1962 it became an officially recognised Bird Observatory.
In severe weather, it can be cut off for weeks at a time with supplies needing to be delivered by boat and when tides allow.