Abortion bill to go before House of Keys in January, MHK says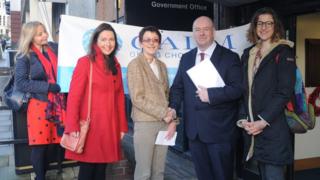 The final draft of a bill proposing reforms to the Isle of Man's abortion law will be presented to the government in January, an MHK has said.
Dr Alex Allinson has spent 11 months working on the Abortion Reform Bill 2017, which was heavily backed in a recent public consultation.
The Ramsey MHK said he would meet with legal experts to discuss changes ahead of it going before the House of Keys.
Opponents have said any change to the current law would be unacceptable.
The news of the final draft, which proposes to allow pregnant women to request a termination up to 14 weeks, came as the Campaign for Abortion Law Modernisation (CALM) handed in a petition supporting it to the Chief Minister.
'Extremely emotive issue'
The 2,795 signature petition, which CALM said included 828 signatories who were not based on the island, calls for Manx women to be given a "genuine choice" over abortion.
Reforms to abortion law were "necessary and long overdue", a CALM spokeswoman said.
Opposing campaigners Humanity and Equality in Abortion Law said any change would lead to "inhumane and discriminatory" practices.
Chief Minister Howard Quayle said it was an "extremely emotive issue", adding: "We are listening to the views of the public."
The current Termination of Pregnancy Act 1995 only allows abortions to be carried out on the island if a pregnancy is the result of rape or if there are concerns about a woman's mental health.
All other Manx women wanting an abortion have to leave the island and pay for both the procedure and their travel expenses.
In 2016, the UK's Department of Health reported that 88 women had travelled from the Isle of Man for abortions.
In Great Britain, abortions are funded by the NHS.