Paradise Papers was 'attack' on Isle of Man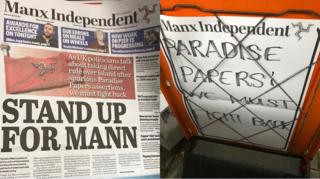 The Isle of Man "will continue to flourish" despite an "orchestrated attack from the international media" after the Paradise Papers revelations.
Politicians defended the island after a leak of financial documents this month claimed it was used for tax avoidance.
In Tynwald MHK Chris Robertshaw said the reporting was "scurrilous" and "brought journalism into disrepute".
The BBC said its reports were "fair and impartial" while the Guardian said it exposed "significant issues".
The Paradise Papers threw light on the top end of the world of offshore finance, and claims included:
During a debate on Tuesday, MHK Chris Robertshaw called the BBC Panorama report "an example of scurrilous reporting which brought the notion of investigative journalism into disrepute".
Chief Minister Howard Quayle said while he welcomes a "balanced debate" from financial experts, the Paradise Papers were an "orchestrated attack".
"Whilst a large part of our diverse economy is not directly affected by the media focus we cannot underestimate the impact it has had on our reputation.
"We have the skill, talent and drive among our people and we will continue to grow and we will continue to flourish."
He added the Isle of Man has proved itself to be "well-regulated, open and transparent".
A BBC News spokesman said there was a "clear public interest in the information being reported".
"It has been conducted in a fair and impartial way by our award-winning current affairs programme Panorama and BBC News journalists.
"The revelations were part of a much wider leak of 13 million documents that have been shared with 100 other news organisations in 67 countries around the world by the International Consortium of Investigative Journalists."
The Guardian newspaper also reported the Isle of Man government approved tax avoidance schemes that refunded more than $1bn to the super-rich on the import of hundreds of private jets into Europe.
A Guardian News and Media spokeswoman said: "The Paradise Papers exposed significant issues about the use of offshore structures to avoid tax.
"We have not received any complaints about the article in question."