Isle of Man abattoir to be 'more competitive'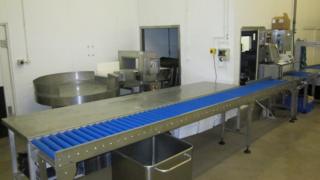 Management changes at the Isle of Man's abattoir will be made in order to ensure farmers enjoy "more competitive pricing", the Manx government said.
It comes after figures revealed in Tynwald showed that about 50% of all Manx livestock was exported to the UK for slaughter last year.
The Tromode plant, currently run by a Manx farmers' co-operative, has been in operation since 1934.
Last year it received a Manx government grant of more than £1.3m.
The government said new management will take over in January with the aim of "delivering improved performance and more competitive pricing to farmers".
Tynwald heard this year that sheep exports increased from about 8,000 in 2015 to more than 20,000 in 2016, while cattle exports rose from 2,600 in 2015 to about 4,600 last year.
In 2016 the government spent more than £2m on refurbishing the Tromode site. This was spent on new equipment and improving animal welfare.
The plant, which has been in its current location for 20 years, processes cattle, sheep and pigs reared on the Isle of Man.
An industry meeting will be held on 11 December to discuss the operational changes at the meat plant.
A new management board is expected to be appointed.