Luxury hotel plan for Isle of Man peninsular 'eyesore'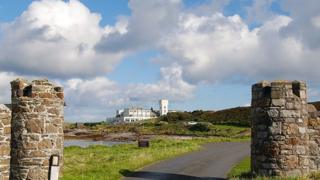 A derelict hotel in a protected bird sanctuary is set to be transformed in a multimillion-pound development.
Plans have been submitted to create a luxury hotel and apartment complex at Castletown Golf Links Hotel on the Isle of Man's Langness Peninsular.
The hotel, which closed 10 years ago, has been described as a "dangerous and derelict eyesore" by local residents.
Developer's Dandara said it would "create jobs". The planning application will be considered at a later date.
The plans include a 40-bedroom hotel along with 40 luxury apartments, a spa complex and swimming pool.
The Derbyhaven Residents' Society said the derelict hotel had "steadily deteriorated".
A spokesman said: "We think the existing building should be demolished as soon as possible.
"The future plans need to be consistent with the landscape - what has been described so far seems awfully big for the area."
Much of the Langness Peninsular in the south of the Isle of Man has been a designated bird sanctuary since 1936.
In 2001 the area was also listed as an Area of Special Scientific Interest (ASSI) "because of its importance for fauna, geology and landscape".
An ecological impact report said the development would mean the permanent loss of about 300 sq m of grassland, currently used by foraging breeding birds.
In the planning application Dandara said "demolition will be timed to avoid breeding season" while "nesting ledges" will be included in the hotel plans.
A spokesman said: "It will create over 30 permanent jobs, while more than 100 people will be employed during construction."