Striped dolphin found dead in Isle of Man harbour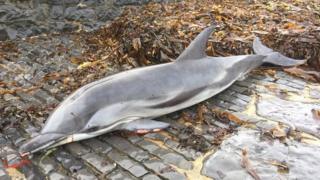 The body of a "rarely seen" striped dolphin has washed up in a harbour on the Isle of Man.
The marine mammal was seen trying to strand itself in Castletown Harbour about 10:30 GMT on Wednesday.
Despite attempts by members of the public to help it back out to sea, the dolphin died.
Marine Wildlife Officer Lara Howe said she believed it was the first time a striped dolphin had ever stranded itself on Manx shores.
"It's a rare occurrence and we will do our best to find out what it was doing here and why it died".
She added: "It looked in good condition and there is no obvious cause of death but we'll know more after the autopsy."
Striped dolphins are acrobatic mammals usually found in tropical and subtropical regions in the Atlantic and Pacific Oceans.
Scientists will now take samples from the animal to determine the cause of death.