Crashes due to ice prompts warning for Manx motorists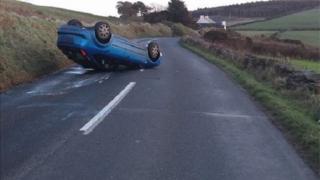 Several crashes due to icy conditions have prompted a warning for motorists as temperatures fall.
Sheet ice has caused "problems on many of the roads, with a number of accidents reported" earlier on the Isle of Man, police said.
Gritters are out as forecasters at the Isle of Man Met Office issued an amber weather warning for ice round most of the island until 12:00 GMT on Thursday.
A police spokesman said: "We are asking everyone to drive to the conditions."
The ice could lead to difficult driving conditions on roads above 240m (787ft), particularly in the central valley area, forecasters warned.