Ice causes 'higher than normal amount of crashes', say police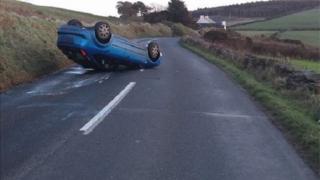 Icy conditions have caused a "higher than normal" number of crashes on the Isle of Man's roads during the last two days, police said.
"Several" accidents were reported on Wednesday and Thursday after the Met Office issued an amber warning of ice.
A police spokesman said keeping the roads safe was a "constant battle" for the Department of Infrastructure.
Sgt Gary Heaton added: "We are still asking motorists to avoid the higher roads and to stay on main routes."
The A18 Mountain Road has reopened after a 24-hour closure due to hazardous conditions, as has the A14 Sulby Glen road and B12 Creg-Ny-Baa Back.
But IoM Transport said bus services on Snaefell Road and Tynwald Road in Willaston have been suspended "until further notice".
A spokesman said service 25 will divert from Hailwood Avenue to Ballanard Road via Watterson Lane while service 26 will divert from Keppel Road to Ballanard Road via Watterson Lane until further notice.