Kate Beecroft MHK 'forced to resign' from health role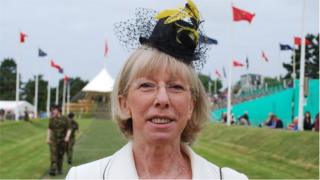 An MHK who claims she was forced to resign from her ministerial role during a meeting with the chief minister has said his actions "lacked integrity".
Former health minister Kate Beecroft said she was called to a meeting on Tuesday and told to decide between resigning and being sacked immediately.
She said she believes Howard Quayle "made up" his mind before they spoke.
On Thursday, Mr Quayle said they had a "full and frank conversation" and he understood her reasons for resigning.
The South Douglas MHK, who resigned on Wednesday, was appointed health minister in October 2016.
Faced with an £11m departmental overspend, Mrs Beecroft announced plans to close a hospital ward and cut Meals on Wheels funding. - a move which the Department of Health and Social Care (DHSC) said would save £630,000 a year.
Additional funds
She said she was "very disappointed in the actions of the chief minister as, in my opinion, they reveal a certain lack of integrity".
"His mind was made up before our meeting started and he was not interested in whether it was fair or just," she said.
"I could have disproved some of the feedback that he gave me with documentary evidence, but he was not interested in seeing it.
"He would not even give me 24 hours to consider whether I would resign or wait to be sacked."
A spokesman for Mr Quayle said the chief minister had "nothing further to add" about Mrs Beecroft's departure.
The DHSC also announced on Thursday it would seek Tynwald approval in January for additional funding of up to £9.5m for the current financial year.
A department spokesman said the funds were needed to maintain services until 31 March 2018.
The session will also see Treasury Minister Alfred Cannan request a review of the DHSC.