Delay over Isle of Man fishing rules for discussions with Scotland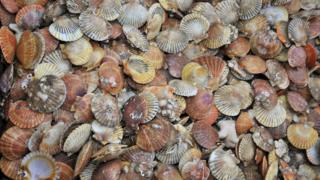 New fishing rules for the king scallop industry that were due to come into force have been delayed amid concerns they "breach an established agreement".
Under the plan, boats will report to an Isle of Man port "for possible inspection" of catches from Monday but it has been postponed until 15 January.
The Scottish government claims it would "breach an established fisheries agreement" and could put jobs at risk.
The Manx government agreed to the delay to "allow for further discussions".
The Scottish government has been contacted for a comment.
New rules were proposed after concerns about the accuracy of reporting king scallop catches.
Scottish boats have been fishing in Manx waters for 30 years, the Dumfries and Galloway council leader Elaine Murray said.
She said if vessels have to report to ports it would "cost a lot in fuel, compromise the freshness of the catch" and also put about 300 jobs at risk.
"The Isle of Man government has agreed to delay the implementation of this new licence condition by a week to allow more time for discussions with the Scottish government," a Manx government spokesperson said.
The government said the king scallop industry is worth £12 million to the island's economy, adding "it is in the interests of all who fish Manx waters, and rely on them for an income, to ensure the long term sustainability of king scallop stocks".
In 2017, the Manx government introduced a series of catch limits to avoid a fishing race in Manx Territorial waters, which extend 12 miles from the island's coast.
They include an overnight fishing curfew, a 50% cut in licences and the introduction of boat size restrictions.