Revamp plan for Douglas promenade submitted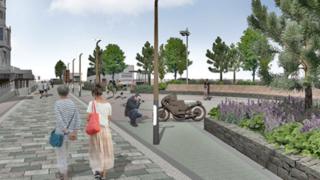 Plans for a £20m revamp of a promenade criticised for being "tired and tatty" have been submitted.
Douglas promenade often referred to as the island's "gateway" due to its proximity to the ferry terminal would see changes to roads and footpaths.
The scheme, which is the third proposal to be drawn up so far, would incorporate the horse tram tracks on single or double tracks.
Work would begin in September subject to planning approval by the government.
The horse tram tracks will remain in the centre of the road from the terminal at Strathallan to the Broadway junction.
From there it will switch to a single track running to the Sea Terminal.
According to the Manx government, about £2m has already been spent on professional fees and design work.
Infrastructure minister Ray Harmer said: "The promenade is one of the island's busiest and most important strategic routes, but also the worst in terms of its overall condition.
"Our scheme will not only reconstruct the highway, but also give the whole area a massive lift."