Isle of Man Mountain Road reopens but further snow forecast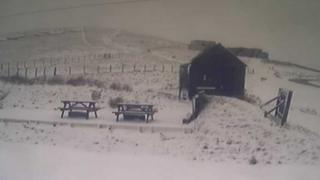 The A18 Mountain Road closed along with other roads after overnight snow on the Isle of Man left them impassable.
Gritting teams have been treating major routes on the island which has since led to the Mountain Road reopening.
Tholt-Y-Will and Brandywell roads remain closed but bus services are unaffected. Motorists are warned about ice and urged to drive with care.
The Manx Met Office's yellow weather warning remains in place for further snow or sleet later.