Isle of Man flights delayed and cancelled by gales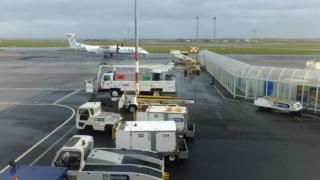 Gale force winds have caused delays and cancellations to flights with some planes being left unable to land on the Isle of Man.
Morning flights to and from Liverpool and Manchester airports were cancelled and a service to London Gatwick has been delayed.
The winds had prevented some aircraft landing on the island's runway, a Ronaldsway Airport spokesman said.
A yellow weather warning for winds of up to 60mph (97km/h) is in place.