Castletown Police Station: Sale of 'much loved' building on hold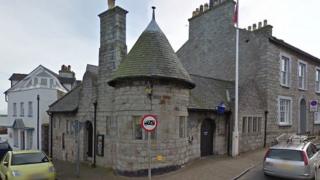 The sale of a "much loved" building on the Isle of Man has been put on hold for two months to allow "more time for government talks".
After an unsuccessful bid by Manx National Heritage (MNH), Castletown Police Station was valued at £250,000 and put on the open market.
MNH had wanted the building for free, but the Treasury said it needed to get "the best value for the taxpayer".
Minister Alf Cannan said the government "was not a give-away machine".
"We are very willing to engage with MNH and this time will allow for that," he added.
"While Treasury recognises the importance of the building, it has to adhere to financial regulations and we must maintain credible financial controls."
Castletown Police Station, designed by British architect Mackay Hugh Baillie Scott in 1895, was offered to MNH for 90% of its market value in 2017.
The organisation said that, for reasons which included a "reduction in real terms of government funding", it was unable to raise the money needed.
A spokesman added that charitable reserves were "finite and limited, and trustees have a duty to practice fiscal responsibility and focus on the existing projects".
The Manx government said if a solution cannot be decided within the next two months, the building will go back on the open market.