Isle of Man tourism slump blamed on 'lack of drive'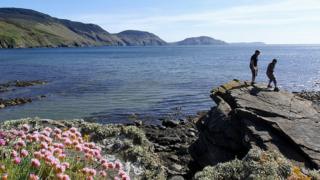 Manx tourism chiefs have been accused of "lacking drive and determination" after an official report revealed a 9% slump in visitor numbers.
According to the Isle of Man Passenger Survey, numbers fell by 25,000 last year, from 292,328 in 2016 to 266,850.
MHK Chris Robertshaw said the "considerable decline" reflected an absence of "any ambition to succeed".
Isle of Man Tourism admitted the figures were "disappointing" but said there were "encouraging" signs.
Despite a fall in visitor numbers, the report said tourists are staying longer and spending more.
The average stay increased 2.6% to about five nights with visitors spending a total of about £112.6m - an increase of 5.6% - it said.
Tourism Minister Laurence Skelly said: "While the recorded increase in overall visitor spend was encouraging, the reported fall in overall visitor numbers was disappointing given other positive indicators such as the levels of investment being made into new hotels and the results from the recently conducted Business Confidence Survey".
But Mr Robertshaw said the tourism department "had a tendency to believe in propaganda".
He added: "Tourism figures around the world are growing exponentially but on the Isle of Man there is considerable decline - this is the bottom line and it has to be stemmed."