Isle of Man bird survey nearly finished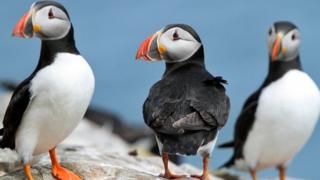 A comprehensive census of the Isle of Man's seabird population is nearing completion, conservationists have said.
Manx BirdLife said the project, the first of its kind since 1999, "will reveal the fortunes of 17 coastal and marine species".
More than 10,000 birds have been logged in the study, which has involved 947 miles (1,525km) of boat travel.
A charity spokesman added that the findings will "underpin all future bird conservation strategies".
The final stage of the study involves recording numbers of black guillemots, a species protected under the 1981 Wildlife and Countryside Act.
Manx Birdlife said the data "will contribute to the wider understanding of how this charismatic species is faring across the northeastern Atlantic".
Other species being monitored include the Manx shearwater, the black-headed gull, kittiwakes, razorbills and the Atlantic puffin.
In 2016 a project using hundreds of model puffins to attract the real birds was launched on the Calf of Man, a bird sanctuary islet located just to the south of the Isle of Man.