The Guild: Singing farmer wins Cleveland Medal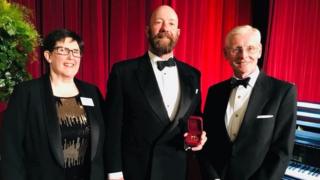 A singing farmer has won the top prize at the Isle of Man's largest festival of music, speech and dance in Douglas.
Paul Costain wowed crowds to earn his second Cleveland Medal in the Manx Music Speech and Dance Festival, having previously won in 2016.
The 51-year-old said being surrounded by nature in his day job makes him want to sing.
A spokeswoman for the event, known locally as The Guild, said he was a "hugely talented and deserving winner."
Mr Costain, from Colby, said: "It's always nice to step away from the real world and appear on a stage to an audience who appreciates you and what you do.
"Music is all around us in nature. The animals have generally been receptive to my singing apart from the bulls who consider my bass voice a threat to their dominance over the herd".
Thousands of performers competed in the event, which was first held in 1892 and features 200 classes.
The Cleveland Medal is the festival's most prestigious award.
Mr Costain saw off competition from class winners Olivia Black, Debbie Gooding, Judith Barker, Michael Corkill, Matthew Quinn.