Navy safely detonate unexploded WW2 ordnance in Smeale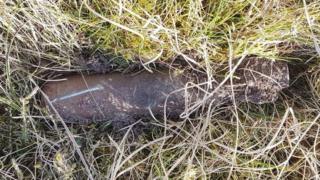 A controlled explosion has been carried out after an unexploded bomb was discovered on the Isle of Man.
The eight-inch wartime device was found by a metal detectorist at Smeale in the north of the island on Sunday evening.
A cordon was set up and maintained by the town's coastguard before the device was detonated by a Royal Navy Bomb Disposal Unit from the UK on Tuesday.
Several previous devices found on the Isle of Man have also been from World War Two.
Sgt Barry Hand said it was a "highly explosive" device, full of "extremely dangerous white phosphorous".
"It made a big bang when it was detonated," he said.
"The metal detector was lucky as he hit it with his spade. We get around 10 such discoveries a year around the Manx coastline.
"It was a popular training ground during the war and American troops dumped a lot of ammunition on their way home after it was won.
"We would urge anyone who makes such a discovery to leave it alone and call us immediately."
A similar device was found in a rock pool south of Queen's Pier in Ramsey in February.
Two mortars were discovered on a green lane track in the Sartfell area, near Kirk Michael last year, while another World War Two device was discovered in Ramsey in 2016.
The Isle of Man Coastguard said: "All suspicious objects found around the Manx coast should be reported as soon as possible."