TT festival: Cycles banned from Mountain Road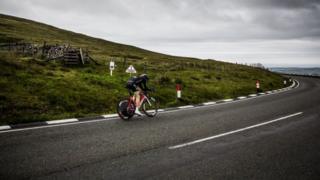 Cyclists have been banned from using the Isle of Man's Mountain Road for the first time during the annual TT motorcycling festival.
Cycling on the A18 route will be prohibited for a two-week period between 25 May and 11 June.
The race event, which attracts about 40,000 bikers every year, is the Isle of Man's busiest time.
A cycling ban was put in place on the route during the TT's sister event, the Festival of Motorcycling in 2017.
Cyclists have traditionally avoided the Mountain Road during motorcycle events, but police have now decided a firm message is needed to ensure nobody puts themselves at risk.
A police spokesman said: "We have nothing against cyclists. This ban is purely about road safety.
"We don't want anybody having an accident because they are not giving enough room to the cyclist when they pass them or have given too much room to the cyclist and they go into another vehicle when overtaking."
The road will be closed to all traffic on Friday, between 09:30 and 16:30 BST, as the route is prepared ahead of the festival.
It will be converted to a one-way system between the Ramsey Hairpin and the Creg-ny-Baa ahead of Saturday's first practice session.
The first practice session is due to be held on Saturday with public roads scheduled to close from 16:45.
Police said the Horse Tram service in Douglas will also be suspended between 17:00 and 18:00 each race day to improve traffic flow.
A full list of road closures is available online.