Isle of Man TT spectator jailed for entering closed roads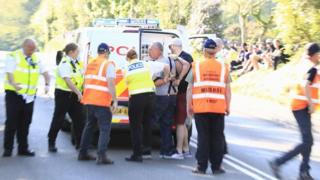 A "dangerous and irresponsible" spectator who entered the Isle of Man TT course ahead of a high-speed practice session has been jailed.
James Ford, from Bingley in Yorkshire, entered the road near the Half Way House in Crosby, causing Monday's session to be delayed for 80 riders.
The 67-year-old admitted obstructing the conduct of a race and failing to comply with a requirement of a marshal.
Ford was sentenced to four weeks in jail at Douglas courthouse.
Deputy High Bailiff Jayne Hughes also imposed an exclusion order meaning Ford will be banned from entering the Isle of Man for five years following his release.
Motorcycles practising for the island's annual race festival can reach speeds of 180 mph (289 km/h) on that stretch of the course.
Sgt Andrew Reed said: "To suddenly come on to a pedestrian walking along the road would have catastrophic outcomes, not only for the person illegally on closed roads and the rider, but for other spectators."
Prosecution advocate Mike Jelski told the court how Ford became "aggressive and belligerent" towards marshals just before 18:00 BST when they asked him to move from a gateway.
Staff rang the clerk of the course Gary Thompson, who spoke to Ford before being told: "I'm not moving. If you send police you'd better make sure they're big lads".
Sgt Reed said Mr Ford's actions were "dangerous and irresponsible" and "robust action" would always be taken against anyone disregarding the road closures.
Organisers had to hold 80 riders at the start line in Douglas for about 20 minutes until Ford was removed from the track by police.