TT 2018: Kent racer Steve Mercer 'critical' after TT car crash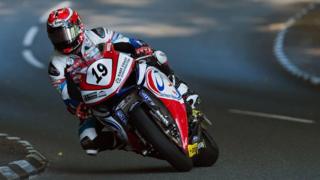 A TT rider is in a "critical but stable" condition in Liverpool after colliding with a safety car at the Isle of Man TT races, organisers have said.
Steve Mercer from Kent was travelling backwards on the course towards the TT grandstand after an earlier incident in which Manx racer Dan Kneen died.
Organisers ACU Events Ltd said the course car was travelling to an earlier incident near Ballacrye.
A spokesman said an "investigation has been launched".
In a statement on Thursday, clerk of the course Gary Thompson said the event's red-flag procedure will change with "immediate effect".
Mr Thompson said that a red-flag instruction will apply to the entire TT course "irrespective of where that incident has occurred".
He added that riders will "only be permitted to move in the course direction and under the control of travelling marshals at the front and rear".
Mr Mercer's wife Caroline said on Facebook that her husband has sustained "serious injuries" following an accident on his way back to the grandstand.
His team, Jackson Racing, have confirmed that Mercer has been transferred to Aintree University Hospital in Liverpool for "further assessments and tests".
A statement said: "Our thoughts are with Steve, Caroline, Daniel, Alex and family."
It is not yet known whether the driver of the car was injured.
Since making his debut in 2009, the 36-year-old from Maidstone has recorded 16 top-20 finishes at the TT and has lapped the course at more than 129mph.
Wednesday's TT practice session was abandoned following the incident.