TT 2018: 'Dangerous' driver failed to observe warnings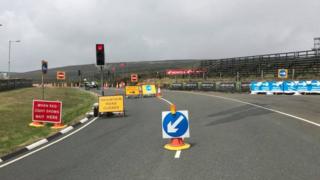 A man who drove the wrong way along a one-way road used by hundreds of bikes in the Isle of Man has been charged by police.
The 47-year-old was arrested on the Mountain Road at 12:45 BST on Thursday after failing to observe a number of warning signs, police said.
He will appear in court later charged with contravening a traffic sign.
The man drove for several miles against the traffic between the Creg-Ny-Baa to Brandywell.
Hundreds of bikes would have been travelling in the other direction at the time and a force spokesman said his actions were "very dangerous and irresponsible".
He said: "If you choose to ignore these signs and go against the one-way system on the Mountain you are likely going to find yourself arrested."