Murray Lambden: Manx walker joins Archibald Knox and Bee Gees in rare honour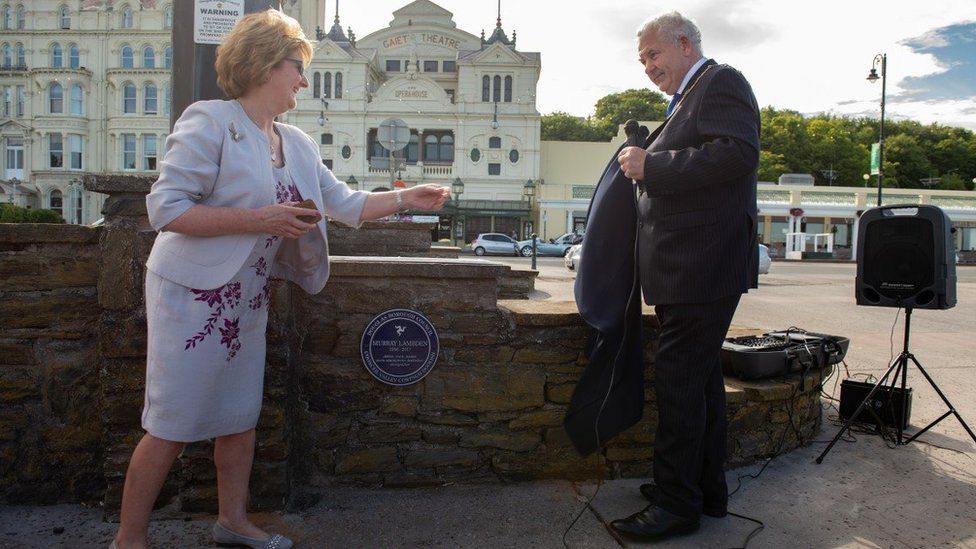 The late race walker Murray Lambden has joined Art Nouveau designer Archibald Knox and the Bee Gees in being honoured with a blue plaque in Douglas.
The former British race walking champion was described as a "giant of Manx athletics" following his death at the age of 60 in April 2017.
Douglas Mayor Jon Joughin said he was an "inspiration to many".
The permanent tribute was unveiled near the finish line of the Parish Walk - an event he won in the 1970s.
Mr Joughin said it is only the third such plaque to be handed out and reflects the "serious impact he made in Douglas and the Isle of Man".
Mr Joughin said his loss had been "felt widely across the island and athletics community".
A spokesman for Douglas Borough Council said: "He led by example in assisting in the promotion and improvement of Manx sportsmen and women.
"The plaque is located at the Parish Walk finish line in recognition of Murray's success in and love for the event."
His widow Marie said: "It couldn't be in a better place."
Mr Lambden represented the Isle of Man at the Commonwealth Games in 1982 and was a former winner of the Parish walk and End 2 End walk.
He also set up and maintained the Manx Athletics and Parish walk websites - some of which have been preserved by the by the British Library - and was regularly at events with his camera.
Related Internet Links
The BBC is not responsible for the content of external sites.