Jane Subachus: Family makes desperate appeal for stem cell donor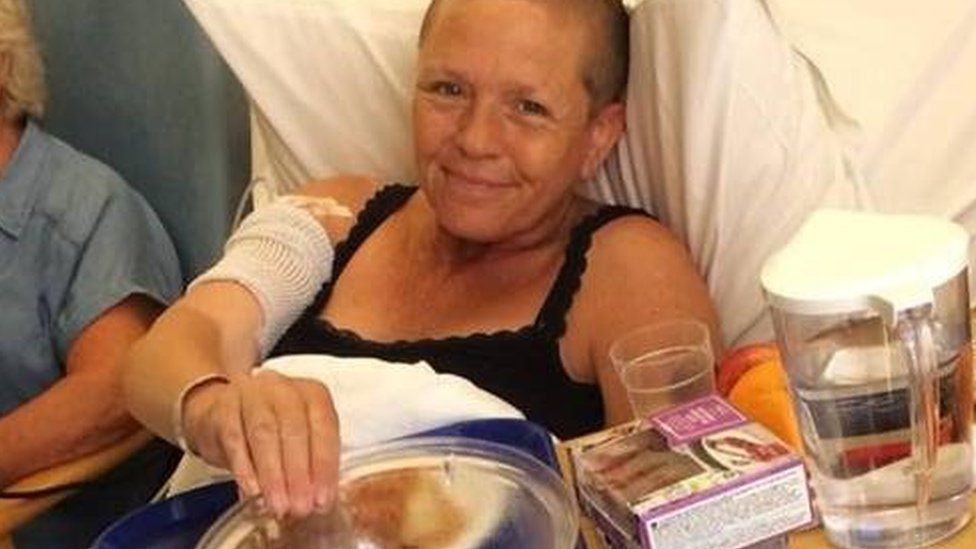 The family of a mother-of-two from the Isle of Man have launched a "desperate appeal" for a stem cell donor to save her life.
Jane Subachus, 51 and from Sandygate, was first diagnosed with the rare blood disorder myelofibrosis in 2009.
The condition causes scar tissue to develop in the bone marrow, affecting its ability to make healthy blood.
The family said her "only hope" is a bone marrow transplant and have launched an urgent appeal.
Mrs Subachus said a potential donor would have a "most enormous, magical, amazing impact for someone like me".
Myelofibrosis is a rare type of chronic leukaemia - a cancer that affects the blood-forming tissues in the body and only affects about one in every 100,000 people.
Doctors have said she urgently requires new stem cells to rebuild her immune system, so she can fight infection and disease.
Feeling tired, weak or short of breath, usually because of anaemia
Pain or fullness below your ribs on the left side, due to an enlarged spleen
Easy bruising and bleeding
Excessive sweating during sleep
Fever and bone pain
Nine years ago, Mrs Subachus successfully received a transplant from her brother Paul.
Now, though, the condition has returned.
Despite Paul being a perfect match last time, doctors have advised she should not have another stem cell transplant from her brother in case her body rejects the cells.
With the situation becoming increasingly desperate, her family is appealing for people to sign up as donors online with blood cancer charity Anthony Nolan.
"We've seen in the past that the Isle of Man community has been incredibly supportive of our work.
"It's time to rally once more to get the message out loud and clear, so that we can find a match for people like Jane."
A recruitment drive will be held at Douglas Rugby Club on 3 July.
Mrs Subachus said the process is as simple as taking a swab from your mouth.
"Everyone has the potential to save someone like me," she added.
Related Internet Links
The BBC is not responsible for the content of external sites.