Ducklings orphaned after driver which hit them 'did not slow down'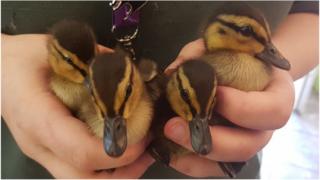 A duck and several of her ducklings have been "mown down" by a motorist near Kewaige in the Isle of Man.
The incident was witnessed by a local vet and several members of the public who managed to round up and rescue four survivors.
The orphaned ducklings are now being care for at the Manx SPCA who said it is a "very upsetting incident."
A spokeswoman said the black 4x4 vehicle failed to even attempt to slow down as the birds crossed the road.
She added: "Members of the public and a vet took swift action and made a courageous effort to save the remaining ducklings."
Andrew Wedgwood Mayne said: "I saw this happen and couldn't believe they didn't stop - there was more than enough time to do so safely.
"Having helped gather the ducklings afterwards, I'm glad they're safe!"
They are currently in an incubator with their surrogate mother - a cuddly teddy.
They will now be hand reared by staff at the centre and eventually released back to the location they were taken from.