Southern 100: James Cowton died from 'multiple injuries'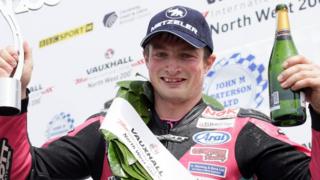 Road racer James Cowton died from multiple injuries following an incident involving four competitors at the Southern 100, an inquest has heard.
The 26-year-old from East Yorkshire, succumbed to his injuries in an ambulance at the scene of the accident at Stadium Bends on 12 July.
The collision happened in the 600cc Challenge race on the Billown Course.
Organisers said fellow racer Ivan Lintin remains in a critical but stable condition in a UK hospital.
Lintin, a two-time TT winner from Lincolnshire, underwent a successful operation on his leg and ankle over the weekend after being flown off the Isle of Man to Liverpool.
Jamie Coward suffered shoulder injuries and Mickey Evans sustained leg and arm injuries but both were later discharged from hospital.
Coroner Jayne Hughes told Douglas Courthouse, Cowton died from multiple injuries as a result of a high-speed motorcycle accident.
She also confirmed an investigation is ongoing and adjourned the inquest with a date to be notified.
Cowton, a joiner from Driffield, won the 250 Lightweight race at the 2014 Ulster Grand Prix, his maiden international road race success, and also claimed his first North West 200 win for Northern Irish outfit McAdoo Racing in May's second Supertwin race.
He had also won three races at the Southern 100 in previous years.
In a tragic month for the sport, Dan Kneen and Adam Lyon died at the Isle of Man TT with William Dunlop fatally crashing at the Skerries 100.
The Southern 100 is held on closed roads at Billown in the Isle of Man.