Rare Isle of Man P50 microcar sells for £49k at auction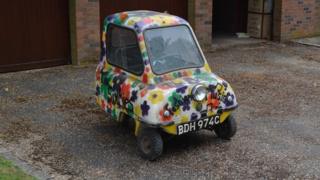 A rare microcar manufactured in the Isle of Man in the 1960s has been sold for £49,500 at a UK auction.
The P50 three-wheeler, made in 1963 by Peel Engineering, went under the hammer at Brightwells in Leominster, Herefordshire.
Only 50 of the 49cc cars were ever made, with fewer than 30 thought to remain.
An immaculate example was sold at auction in the US in 2016 for a world record $176,000 (£120,000).
The car's previous owner bought it for his daughter in 1978 and was used at village fetes and for her A-Level art project.
The auctioneers said it was in need of some restoration.
Brightwells auction manager Tony Service said: "Many of those who bid intended to restore the car and take it to the US.
He said: "A number of people were interested in exporting it to the states where one was sold last year.
"If you spent £10,000 on it it would be mint."
Mr Service added: "Peel only ever made 50 and it could be a very long time before you see another for sale."
Designed and built by Cyril Cannell and Henry Kissack, the P50, has three wheels, one headlight, three gears and no reverse.
The model originated as a project to find the minimum possible dimensions needed for a functional car.