Snaefell: Tender sought for mountain cafe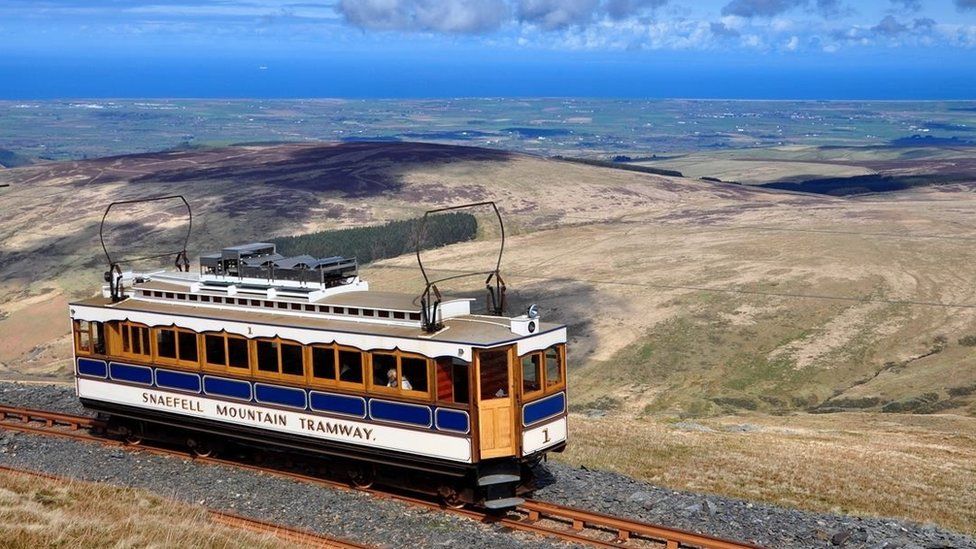 A mountain top cafe that boasts views of England, Ireland, Scotland and Wales is searching for new contractors.
Snaefell Summit Cafe can only be reached by a Victorian tram and sits on top of the Isle of Man's only mountain, 2,036 ft (621m) above sea level.
A Manx government spokeswoman said it was a "truly unique opportunity to offer dining with a difference".
Customers, staff and supplies are brought to the summit of the mountain on the tram.
Isle of Man Transport's Hannah Lo Bao said: "It's a truly unique opportunity to operate one of the highest cafes in the British Isles.
"It is the only place in the British Isles where you can see seven kingdoms - England, Ireland, Scotland, Wales, heaven, Man and the sea - just by turning around".
The Snaefell Mountain Railway, built in 1895, operates from March to November and last season brought 63,175 visitors to the summit.
Ms Lo Bao said: "Over the past years, the desire to visit the top of the mountain for both tourists and locals has increased dramatically.
"This season is looking like it will break all records as we are already up by 26% on passenger numbers compared to last year."
The current cafe is licensed and offers daily hot meals, snacks and afternoon teas as well as evening events including stargazing.
Expressions of interest from contractors wanting to run the Snaefell Summit Cafe must be submitted to the Department of Infrastructure by 3 August.
Related Internet Links
The BBC is not responsible for the content of external sites.