Isle of Man charity cyclists injured in hit-and-run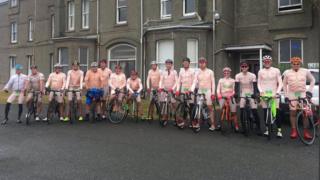 Two cyclists tackling a charity bike ride have been injured in a hit-and-run crash involving a 4x4.
The men were riding as part of a group of about 16 people when one was knocked from his bike before colliding with a second cyclist, police said.
It happened on the Peel to Kirk Michael Coast Road, just past the Devil's Elbow, at about 14:30 BST on Friday.
Police said the vehicle, thought to be a blue Range Rover, failed to stop and continued towards Kirk Michael.
A spokesman for Isle of Man Constabulary said both cyclists were taken to hospital and later released. They were not badly injured.
For force is appealing for witnesses or anyone with information to come forward.
The riders were completing a ride organised by the Near Naked group, which aims to raise awareness of prostate cancer.
The idea behind their skin-coloured kit is to reduce the embarrassment of cancer.