Port Erin bay beach closed by diesel spill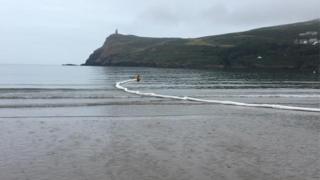 A popular Isle of Man beach remains partially closed to the public after the discovery of a diesel spill.
The Manx Coastguard believes the diesel came from a vessel entering Port Erin bay and that wildlife had been affected.
Teams from Port Erin and Douglas deployed an absorbent boom across the water line and dredged the length of the beach to minimise its spread.
The popular beach remains closed below the high water line.
'Evaporating quickly'
A Coastguard spokesman hopes the beach will full reopen later on Monday.
In recent weeks, more than 50 dolphins have been spotted in the bay along with several basking sharks.
The Coastguard said the lower part of the beach had been affected by widespread areas of a light film of diesel but, as it was so fine, it has evaporated quickly.
Commissioners closed the beach below the high water line on Sunday on the coastguard's advice for "public safety".
The Festival of the Sea, which used part of the beach, was unaffected.