Isle of Man health to offer cervical cancer test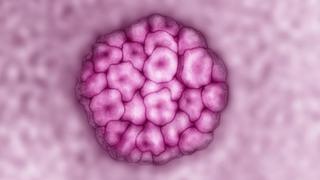 The Isle of Man is to introduce a more accurate cervical cancer test which could help patients get treated sooner.
Under the government's plans, women who are currently offered a routine smear test will also be checked for Human Papilloma Virus (HPV), which has been strongly linked to cervical cancer.
The new test is expected to be made available to patients from 1 August.
Women in the United Kingdom will not have access to the new test until next year.
Manx Director of Public Health Dr Henrietta Ewart said: "Adopting HPV Primary Screening puts us ahead of the curve as we will be among the first places to offer it."
The new test was approved for the NHS in England after a successful trial in 2016.
'Abnormal cells'
Cervical cancer is the most common cancer in women under the age of 35, and its incidence has increased 22% during the last decade.
Each year, more than 3,200 women are diagnosed across the UK, with more than 890 dying from it.
While HPV does not always cause cancer, the virus contributes to virtually all cases of cervical cancer.
Up until now a test for it has only been done if doctors noticed abnormal cells in the patient's smear sample.
Anyone who has ever been sexually active is at risk of catching HPV.