Ramsey by-election turnout 'disappointing'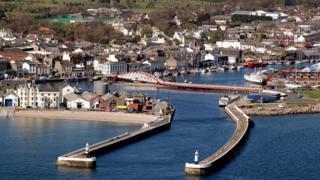 A turnout of just 16% in a recent local authority election has been described as "disappointing" by a Ramsey commissioner.
Of 5,724 people registered to vote, only 928 exercised their democratic right.
George Monk and Nigel Howard were the successful candidates, receiving 301 and 248 votes respectively.
Commissioner Juan McGuiness said he wants to investigate ways of better engaging Ramsey voters.
He said: "Democracy is so important and whilst it is great to have four people coming forward to stand [in the election]... to be represented by a couple of hundred votes is very disappointing."
He continued: "In the last election to the House of Keys in 2016, Dr Alex Allinson received nearly 3,000 votes. So Ramsey voters are not apathetic.
"They need to be better informed about election dates, receive candidates' manifestos, and need to engage better with voters."
Messrs Monk and Howard were elected until 2020 to serve the north and south wards respectively following the resignations of Eric Corkish and Patrick Ayres in May.