T.E. Brown: Neglected Bristol grave of Manx cultural great restored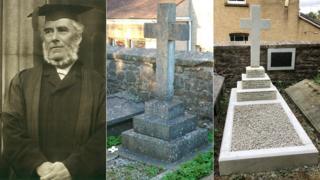 The grave of one of the Isle of Man's greatest cultural figures has been restored after falling into neglect.
Thomas Edward Brown was a Victorian scholar, teacher, theologian and the Manx national poet.
Culture Vannin and Manx National Heritage have restored his Bristol resting place after discovering it had lain unattended for decades.
The late British novelist Hall Caine once described Brown as the "quintessence of all that is Manx."
Culture Vannin's James Franklin said the grave had become "blackened" and the inscriptions illegible.
"We were shocked to see the pictures. It was not how anyone in the Isle of Man would want the site to look," he said.
"It's a spectacular restoration and the site is now fitting for a person as important to the Isle of Man as T. E. Brown, both as a historical figure and as a poet whose works continue to act a vital force for Manx imaginations."
Manx National Heritage teamed up with the cultural charity and stonemason Simon Ashwell to complete the work.
MNH director Edmund Southworth said it was a "fitting tribute to a proud Manxman".
The author is best known for the Fo'c's'le Yarns series of Manx dialect poems, most notably Betsy Lee, a heartbreaking story of lost love.
He died in October 1897 while on a return visit to Clifton College in Bristol, which had previously been his home and workplace for nearly 30 years, and was buried in the city's Redlands Cemetery.
The Yarns, published in 1881, are widely regarded as the single most important work in all Manx literature.
Mr Franklin added: "If Brown had written no more than the four poems in this collection, they alone would have earned him the title of Manx national poet."