'One-off' Mr Isle of Man illustration to be raffled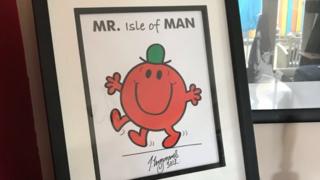 A unique illustration of a three-legged Mr Men character inspired by the Isle of Man is being raffled to raise funds for a library service.
Mr Isle of Man has three legs in keeping with the triskelion, which appears on the Manx flag.
The character was created by Adam Hargreaves, son of the late Mr Men author Roger, as a "one-off piece of fun" during the Manx Litfest in 2017.
The raffle will be launched at the Royal Agricultural Show on Friday.
Litfest organiser John Quirk said: "The character really caught everyone's imagination.
"We thought raffling him off would ensure he finds a loving home, and also raise funds for the Family Library and Mobile Library Services."
Librarian Mary Cousins said: "I've had a whole career watching parents and children fall in love with Mr Men and Little Miss characters and understand their continuing love and appeal.
"Some lucky person will win a totally unique illustration by one of the major names in children's literature."
Hargreaves, from Surrey, inspired his father Roger to create the characters at the age of six by asking what "a tickle" looks like.
He later took over the Mr Men and Little Miss empire after his father's death in 1988.
The books, created in 1971, have sold more than 120 million copies.
The winning ticket will be drawn on 29 September.