Dutch elm disease found in Isle of Man's oldest tree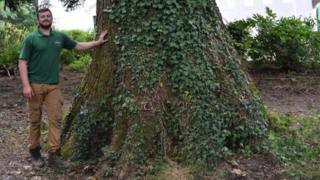 Evidence of Dutch elm disease has been found in what is believed to be the Isle of Man's oldest tree.
The 300-year-old elm is one of a number of trees on the Milntown Estate in Ramsey to have been struck by the fungal disease.
The Manx government said the oldest tree had had several diseased branches removed.
A spokesman said three other trees had been removed and a further two were being tested.
The devastating disease, which is spread by elm bark beetles, was first spotted on the island until 1992, several decades after it was first identified in the UK.
The spokesman said the island had since lost about 1% of its 250,000 elm trees to the disease.
Environment Minister Geoffrey Boot said the public had a "vital role" to play in preventing it spreading further.
"By helping to identify cases as soon as possible, we can take prompt action," he said.
"The Forestry Division has had a very effective disease control programme... but we need people to be vigilant."
Signs of Dutch elm disease include the wilting of leaves and young shoots, the discolouration of leaves and the retention of dead leaves or bare twigs and branches.
Anyone who has concerns about a tree should contact the Department of Environment, Food and Agriculture's Forestry, Amenity and Lands Directorate.