Isle of Man £20m promenade revamp begins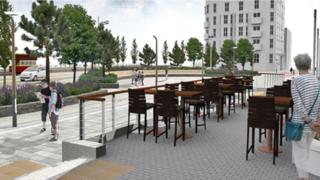 Work designed to pave the way for the main £20m revamp of Douglas promenade has started on the Isle of Man.
"Preparatory and enabling works" are to be completed, a Manx government spokesman said, before the contractor for the three-year project is confirmed.
Preparatory work includes resurfacing the road at Port Jack and the removal of benches and other street furniture.
The contractor is due to be finalised by the end of the month.
Once selected, it will be work with the government to flesh out the details of the major redevelopment.
Regarded as the island's gateway close to the ferry terminal, the regeneration will see changes to roads and footpaths on the prom.
The scheme will also see new water and gas mains installed.
A stylish "cultural area" is also planned for the Villa Marina and Gaiety Theatre area.
The changes will accommodate the island's historic horse trams, with the 140-year-old tracks remaining in the centre of the road from the terminal at Strathallan to the Broadway junction.
From there it will switch to a single track running to the Sea Terminal.