Competitor pedals from Switzerland to join TT challenge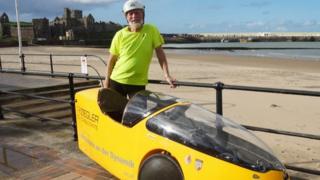 A 67-year-old man has completed the Isle of Man Cycling Challenge having pedalled all the way to the start line from Switzerland.
Armin Ziegler took seven days to cycle his human-powered vehicle the 615mi (991km) from the Swiss-France border.
Competitors had the option of cycling one, two or three laps of the world famous Mountain course on Saturday.
It was the first year velomobiles were allowed to take part in the event.
A velomobile is a human-powered vehicle, typically a recumbent tricycle in which the rider is enclosed in an aerodynamic shell.
The retired engineer from Zurich rode a single lap of the 37-mile (60km) course in three hours and was the only finisher in the veteran class.
Organiser Laura Mearns said: "Mr Ziegler made a very special effort to compete after an epic journey.
It is a fantastic achievement and we are delighted to see him competing in a field that also included veterans and former TT racers."
She said a record 130 people took part in the challenge now in its sixth year.
Mr Ziegler, who first visited the Isle of Man to watch the TT races 44 years ago, now plans to complete the return journey in his carbon fibre machine.
"I managed to book a hotel at the other end of the island so I had to do a few extra miles to get to the start but it is a great event."
"I also got caught in the storms on my way to the island but I eventually got on a ferry."
Ian Perry, of the British Human Powered Vehicle Club, was the quickest to complete three laps in six hours, 18 minutes and 21 seconds.