Plastic bottle washes up on Manx beach after 47 years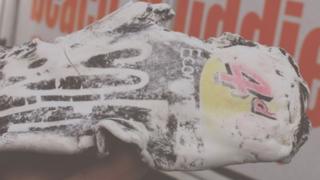 A plastic washing-up liquid bottle that is at least 47 years old has been found on an Isle of Man beach, just days after a similar find in the UK.
Marked 4d off, the distinctive Sqezy container predates decimalisation in Britain in 1971.
It was found in Port St Mary on Sunday by beach cleaners just days after a similar bottle washed up on Brean Beach in Somerset.
Beach Buddies' Bill Dale said described the new find as "a weird coincidence".
He added that the two bottles could be "two of the oldest pieces of plastic ever found on British beaches".
"To find a bottle this old is quite amazing, but it is shocking how long plastic rubbish can survive."
In 1971, Brian Clough guided Derby County to the club's first league title, Ted Heath was the British prime minister and acts such as the Bee Gees and T-Rex topped the charts.
The oldest find previously made by Beach Buddies volunteers was a Coca Cola can from 1987.
Mr Dale said the bottle was found "among hundreds of plastic items" and recent storms could have been a contributing factor.
He added: "We find lots of old plastic bottles, but it's rare to discover one which can be dated, as they have been floating around in the ocean for decades.
A Manx government plan to reduce single-use plastics was unanimously backed by Tynwald earlier this year.
Environment Minister Geoffrey Boot said the "devastating impact" plastics can have on the marine environment was "firmly embedded in the public consciousness".
It is estimated that more than eight million tonnes of plastic enter the world's oceans each year.