Designs for £30m Isle of Man ferry terminal revealed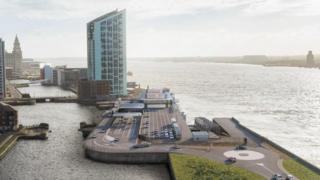 Artists' impressions of a new £30m ferry terminal connecting Liverpool and the Isle of Man have been revealed.
The Manx government has released the designs as it prepares to lodge a planning application next month.
The facility is scheduled to open in late 2020 with funding subject to Tynwald approval.
Liverpool mayor Joe Anderson said the terminal would be a "critical piece for our regeneration plans for the north shore".
Manx infrastructure minister Ray Harmer said passengers' needs have been "at the forefront of the design process" with "comfortable and modern facilities".
The designs will be displayed at a public exhibition in Liverpool from Thursday.
Vehicles and freight will be served by a £7.6m link road.
Mr Anderson said: "The city council is investing a huge amount of money in the transport infrastructure to support this new facility and we look forward to its completion.
"The Isle of Man and Liverpool have a historic relationship, and this new ferry terminal will cement our strong links and forge even closer ties into the future."
The terminal will be built half a mile (800m) from the current Pier Head facility at Princes Half-Tide Dock.
The existing terminal is set for a major redevelopment as a cruise liner berth as part of the £5bn Liverpool Waterfront scheme.