Wandering peacocks a 'growing problem' on the Isle of Man, says ManxSPCA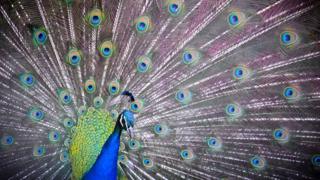 "Noisy and messy" peacocks are becoming a "growing problem" on the Isle of Man, a Manx animal welfare charity has said.
The ManxSPCA said it had been receiving several calls a week about the non-native species straying unexpectedly into unusual places.
Peacocks have been spotted in a supermarket car park and Douglas town centre.
ManxSPCA general manager Juana Warburton said some peacock owners had been "dumping" their unwanted birds.
She said owners should not breed more peacocks than they want to keep.
"We have to get the message out to the owners of peafowl... let's try to stem the problem before it gets out of hand," Ms Warburton said.
'Wandering around'
Attempts to capture and relocate the birds have so far been unsuccessful because peacocks "can fly".
While the Curraghs Wildlife Park no longer rehomes peacocks on island, it has sent some to zoos in the United Kingdom.
General manager Kathleen Graham said the birds will stray more at certain times of year.
"Peacocks and peahens are most likely to wander around in breeding season in the spring, especially if they do not have a suitable mate [when] they may go looking for one."
She said Manx residents should not feed them.
"If there is not a good food source they will usually move on or return to where they came from," Ms Graham explained.