Isle of Man, Jersey and Guernsey sign deal with UK over post-Brexit trade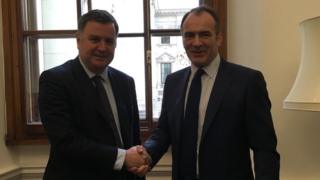 Free trade between the United Kingdom and the British crown dependencies is set to continue after Brexit next year, the Manx government has confirmed.
A deal between the UK Treasury and the Manx, Jersey and Guernsey governments has been signed to preserve the current arrangements.
Under European Union law, the Channel Islands and Isle of Man are currently free from any trade restrictions.
The EU treats the crown dependencies as being part of the UK in this regard.
The current exemption from customs duty will expire when the UK formally leaves the EU.
The new agreement between the UK and the crown dependencies will extend the current arrangements.
The UK's Financial Secretary to the Treasury Mel Stride and Manx Treasury Minister Alfred Cannan signed the agreement in London.
Mr Cannan said the new customs agreement "protects our relationship with the UK".
Mr Stride said the arrangements were "compatible with any future agreement on customs reached with the EU".
The deal will come into force when the Brexit process is complete, due to be 29 March 2019.
The Isle of Man's existing arrangements over VAT and excise-related issues will remain unchanged.