Isle of Man convicted gay men 'could be pardoned'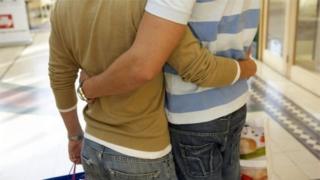 Men convicted of historical homosexual offences could be pardoned and "revenge porn" outlawed in a shake-up of Manx sexual offence laws.
The government has asked people for their views on a wide-range of issues in a consultation.
Under the proposed changes, gay men convicted of same-sex offences before laws against homosexuality were scrapped could be pardoned.
The increasing use of smart phones in sexual crimes is also being debated.
Police said there was an increasing use of mobile phone technology and social media to "humiliate, control and threaten" victims, particularly teenagers.
In his annual report, Chief Constable Gary Roberts said sexual crimes were "causing the most harm" on the island.
The consultation will seek views on:
The pardoning and removal of criminal records relating to consensual homosexuality
Updating the definition of consent
Reviewing sentences
Addressing "image-based" abuse
Modernising legislation relating to pornography and obscene publications
Potential jail sentences for naming victims of sexual crime
Despite England decriminalising homosexuality in 1967, the Isle of Man did not follow suit until 1992.
The Manx Rainbow Association has campaigned for gay men who were prosecuted before the law was changed to be altered.
Spokesman Lee Vorster told Pink News: "We can't move forwards without recognising and understanding our recent past.
"I can't fathom what those in the LGBT community went through, just because of their sexuality."
Dr Alex Allinson MHK, who will be introducing the proposed legislation, said it would place four current acts into one Tynwald Bill.
He added: "We need to make sure that all members of our community are protected against any sexual act which is non-consensual, abusive or harmful."
The consultation is available online and runs until 4 February.