Isle of Man mountain biker who died in End2End race named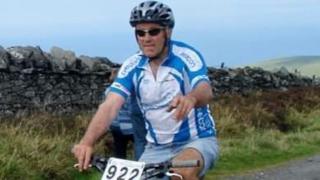 A cyclist who died after crashing during a mountain bike race on the Isle of Man has been named.
Nigel Park, 71, from Glen Mona, crashed while going over an obstacle during the annual End2End Mountain Bike Challenge on Sunday, said police.
The accident happened on private land near to Ballacraine in the west of the island at about 12:30 BST.
In a statement, Mr Park's family said they were "understandably devastated by his tragic passing".
"Dad was a regular competitor and keen mountain biker.
"We take comfort in knowing he was doing something he loved alongside good friends," the statement continued.
The annual event takes competitors along a 47-mile (75km) route from the Point of Ayre at the island's most northern tip to Port Erin in the south.
Event organisers the Manx Mountain Bike Club also said it had passed on its "sincere condolences" to the rider's friends and family.
James Costley-White, editor of Mountain Biking UK magazine, said: "While mountain biking is a sport that involves some degree of risk and minor injuries are common, tragic incidents such as this are, fortunately, extremely rare.
"Our thoughts go out to Mr Park's family."
Police said the death was not being treated as suspicious and no criminal investigation was taking place.