Isle of Man flooding leaves residents trapped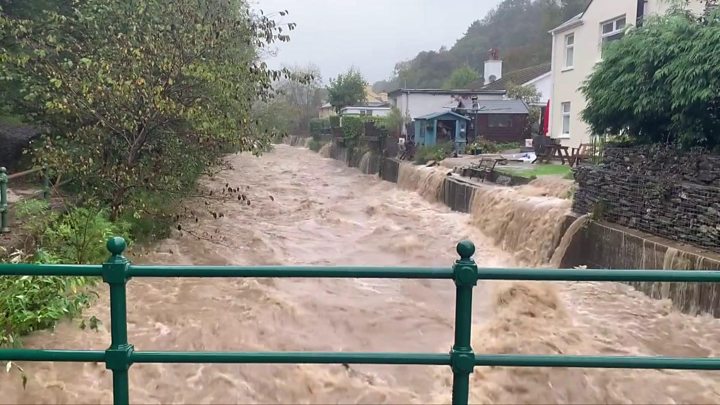 A major incident has been declared on the Isle of Man after severe flooding left people trapped in their homes.
The village of Laxey was cut off for a time when the river burst its banks and poured into the streets.
The fire service helped to evacuate several properties in the Glen Road area and a coastguard helicopter was flown in on stand-by, Manx police said.
Police said water was being pumped out of affected homes and levels are receding.
While many roads had reopened, Glen Road had "suffered severe damage" and flood water had caused "major damage to houses" in the area.
Live updates: People trapped as flooding hits Laxey
As the clear-up operation began, home affairs chief executive Dan Davies thanked the "amazing people" who had "worked tirelessly since early this morning, ensuring people are kept safe".
"As we enter the recovery phase, colleagues will still be hard at work, helping to make the area safe, clear up the damage and repair infrastructure and ensure people have places to stay," he added.
Heavy rain caused a landslip which shut the Mountain Road and flood damage closed the Laxey to Ramsey coast road.
Flooding occurred when the swollen river Laxey burst through a gap in a wall that was being repaired.
A digger being used to carry out the work was almost washed away by the force of the water.
Firefighters have been pumping water out of flooded houses and temporary accommodation was being arranged for those who needed it.
With "no safe access to the village by sea or road for a time", a UK Coastguard helicopter was sent to the scene and remained on stand-by for several hours, said a government spokesman.
Electricity to 150 homes in the village was cut off "for safety reasons" during the incident but has been restored.
Police have said all elderly residents at the Cooil Roy care home are safe.
The flooding has also led to the closure of Laxey and Dhoon primary schools, the Department of Education, Sport and Culture said.
Education minister Graham Cregeen said the safety of pupils and staff travelling to and from school was "of paramount importance to us when we make decisions".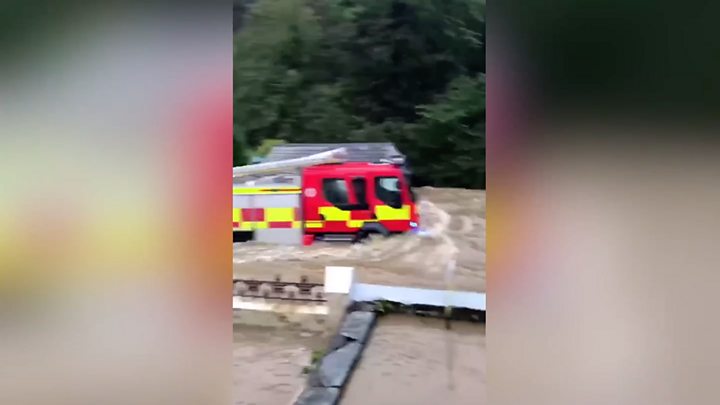 At the scene
Sadhbh O'Shea, BBC News Online
This morning it was pouring down with rain and the place was simply completely flooded.
Laxey is on a slope so water was flowing down in one direction, filling side alleys and moving into the main road, taking bits of debris with it.
People are concerned because they've been through this before when the river flooded in previous years.
It has been quite a surprise for people to wake up to these scenes and see just how bad it was. One villager tells me this is the worst he's seen.
However, the fire brigade and everybody has been pulling together to bring things under control. From about 14:00 BST the rain started abating and the sun came out so things are now looking more positive.
Members of the civil defence have set up an emergency centre in Christ Church Laxey, on Church Hill, for those who have been affected by the flooding.
Vicar of Lonan and Laxey, Rev Jo Dudley, said those unable to get home could use the centre as a place to stay warm.
"We give our condolences to everyone whose homes have been affected but it's lives that are so important at this particular moment in time," she said.
Martyn Perkins MHK said members of the civil defence and the fire service were on the scene to "give assistance" to those whose homes had been flooded.
Laxey resident Edward Quayle said: "It's pretty bad. The main thing is nobody has been hurt."
David and Bernie Smith, who live on the opposite side of the river to where the flooding happened, said the level of the water "rose very quickly" and began to flow out onto the road.
"People quickly started to move cars and things," David said.
Bernie added: "We could see schoolchildren trying to walk what would obviously be a route then they realised they couldn't get through and it was getting higher."
"You just feel so sorry for the people whose homes have been damaged and obviously people who can't return to their homes until they're sorted out. But it seems a good community spirit, everybody's helping.
"The emergency services have put a lot of effort in and no doubt they're going to have to carry on for quite a while yet."
Christian Rothwell, who was unable to get to work this morning, said: "I've been here 12 years and I've not seen it like that before. It's horrible.
"I feel for everyone who's trying to get around today. Some of those houses down there are going to be a big mess."
Keith Skillicorn said the owners of flooded homes "must be devastated", adding: "It must be terrible for them."
John Senagles said he was woken by the noise of the river in the early hours of the morning.
"You could hear the water coming down and I managed to get some of the grids open and cleared them to help divert the water," he said.
"It was dark, so it was quite scary."
Dan Kneale, whose father lives opposite the river, came to assess the damage after the home was flooded with about a foot of water.
He said: "He is away at the moment, so he doesn't know yet, so I'm going to have to spoil his holiday.
"We've just been rescuing goldfish from the next door neighbour's pond because they've escaped and they're all over the place."
Elsewhere, business owners on Peel Road in Douglas have been asked to "activate their flood defences" as rain continues to batter the island.
Although the the infrastructure department has cleared an earlier landslip on A18 Mountain Road, the conditions have caused more earth to be washed on to the road, police said.
Chief Minister Howard Quayle thanked those involved in the rescue effort and said he would be returning a day early from the Conservative Party conference in Manchester to speak to people affected.