Isle of Man's Queen's Pier opens as restoration moves forward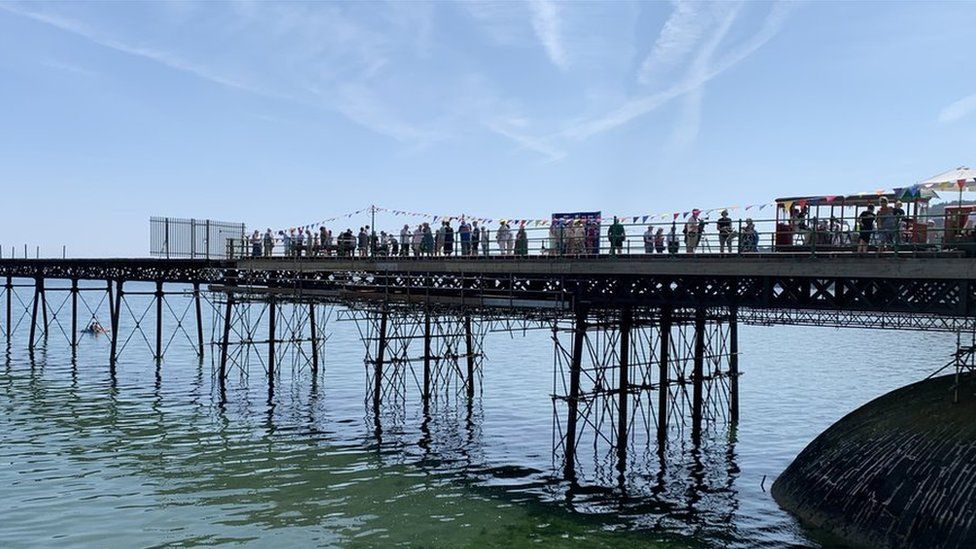 Part of the Isle of Man's Queen's Pier has reopened to the public for the first time in more three decades.
Hundreds of people attended a ceremony for the opening in Ramsey earlier.
Work to restore the Victorian structure was entirely funded by donations and carried out by members of the Queen's Pier Restoration Trust.
Cutting the ribbon, Lieutenant Governor Sir Richard Gozney said volunteers had "set the standard" for community projects going forward.
The trust was formed in 2016 and, since 2017, Captain Stuart McKenzie has been the project manager and chairman.
Describing the opening day as "marvellous", Captain McKenzie said: "I never thought it ambitious, we always thought it was feasible.
"There were a lot of nay-sayers, and we've put them to bed by actually finishing phase one."
The 135-year-old iron pier is the sixth longest in Britain at 0.4 miles (0.6km), and features 60 bays.
It was closed by the Harbours Authority in 1990 for safety reasons due to wear on the wooden parts of the structure and corrosion in its girders.
About 20 volunteers have spent more than 15,000 hours over the past four years working on phase one, which includes the first three bays.
Phase two of the restoration, bays four to eight, is set to start later this year.
In the crowd was Mary Simkiss, who was secretary of the original Friends of Queen's Pier Society for 20 years.
Looking back at that time, she recalled: "The first ten years was spent trying to stop them from pulling it down.
"It's just absolutely, emotionally fantastic. It now looks part of the community again."
Related Internet Links
The BBC is not responsible for the content of external sites.