Isle of Man: Cargo ship freed in overnight operation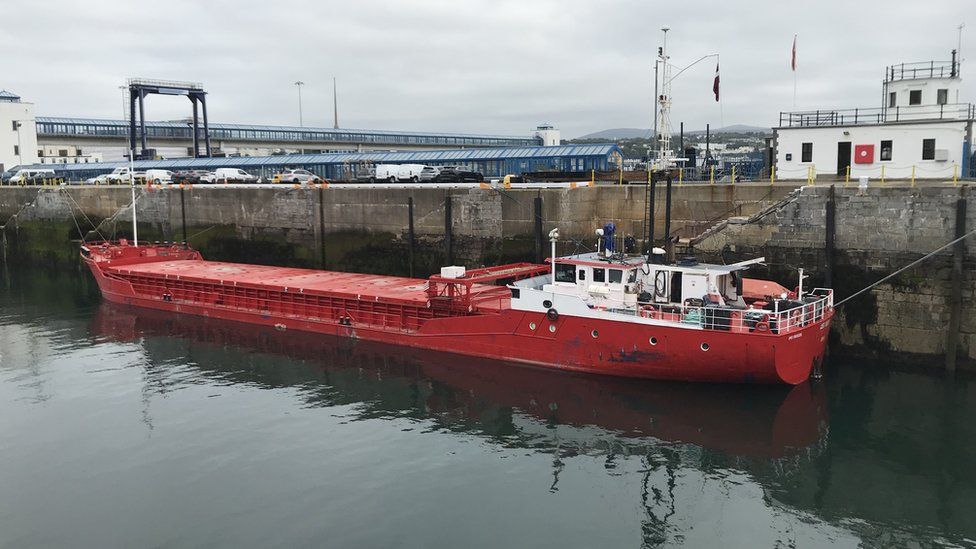 A cargo ship which ran aground in the north of the Isle of Man has been successfully towed back into the sea.
The ship was re-floated in a late-night operation during high tide, and is now moored in Douglas harbour.
It was a twin effort by the Laxey Towing Company and a tug from Liverpool.
The crew of five remained on board throughout the operation, as they could not leave due to the Manx government's coronavirus entry restrictions.
The successful rescue came after a first attempt to free the boat on Thursday afternoon had failed.
A section of the beach between Cranstal and the Point of Ayre was closed to the public while the operation took place.
Diggers cleared some of the boulders around the CEG Orbit to make it easier to tow her back into the water.
The vessel was finally re-floated thanks to the efforts of the Laxey Towing Company's tug the Wendy Ann, and Liverpool tug CT Vector.
Now moored on Douglas harbour's King Edward Pier, an underwater diving survey will be carried out on the cargo ship to check for any damage.
Related Internet Links
The BBC is not responsible for the content of external sites.