Isle of Man: Veteran visits island he says saved him from depression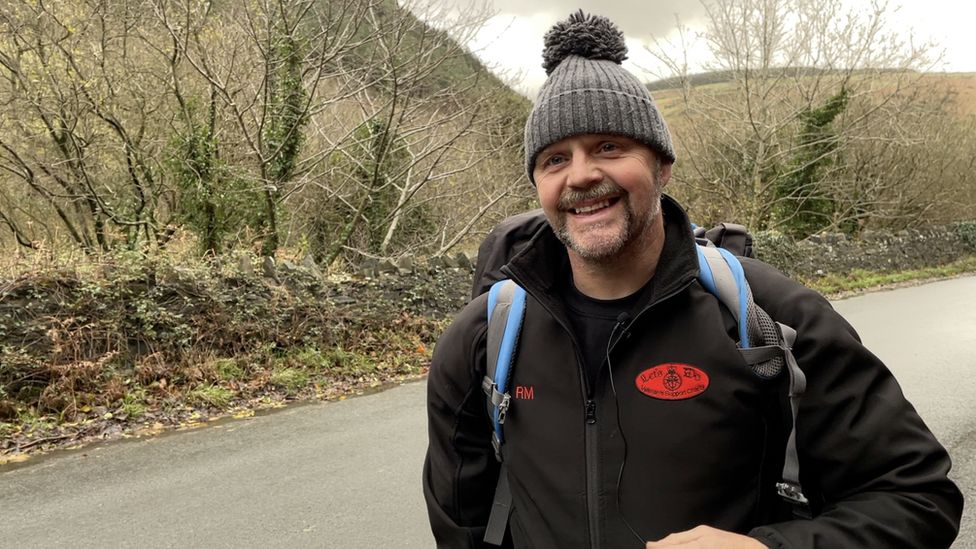 An army veteran visited the Isle of Man in a 385-mile (620km) 'Walk of Hope' because a previous visit had helped him tackle his mental health issues.
Robert Maxwell, from Northern Ireland, walked from London to Belfast to raise money for veterans' charity Let's Do.
The trek was made more challenging due to the fact he had lost one of his legs, which was rebuilt using parts of his arm, in a road traffic collision.
A trip to the TT had helped him out of a "terrible depression", he said.
The walk began on 28 November at St Paul's Cathedral in London and included a period on the island 24 hours before he reached the finishing line at St Anne's Cathedral in Belfast on 6 December.
After the initial surgery on his leg, Mr Maxwell said he had been "on the verge of suicide" as a result of the "aftermath of subsequent operations" and medication to help his recovery.
He had "suffered really badly with mental health issues" during the period, he said.
However, when his friends took him on a surprise holiday to the Isle of Man TT, "all of a sudden everything just came together, it just clicked", he said.
He recalled one of the surgeons telling him he would "do well" to recover enough to be able to walk his dog.
Mr Maxwell said: "I always remembered that, he'd put me together to allow me to walk a dog, and here I am walking from one cathedral to another."
He said he hoped his fundraising efforts would enable more people to access the help they needed through the charity.
Related Internet Links
The BBC is not responsible for the content of external sites.