Extra £32.6m for Isle of Man's Liverpool ferry terminal approved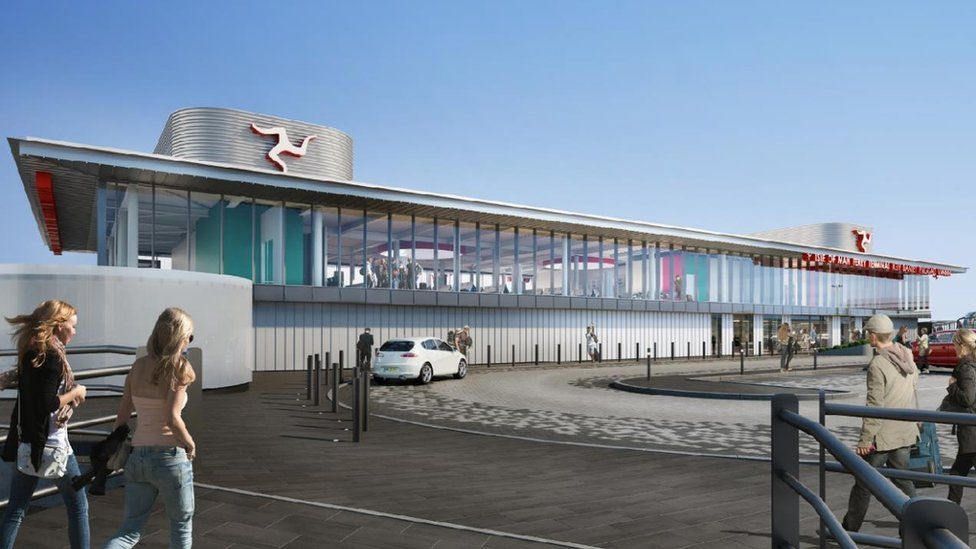 An extra £32.6m will be spent on a new Isle of Man government-funded ferry terminal in Liverpool after politicians backed the move.
It brings the total cost of the Princes Half Tide Dock project, which was first estimated to be £38m, to £70.6m.
Approving the extra sum, Tynwald members branded the handling of project a "public embarrassment".
Infrastructure Minister Tim Crookall said £44m of spending would be lost if the scheme was abandoned at this stage.
The "stark reality" was if funding was not approved then the island would lose its foothold in Liverpool, and Heysham would become "our prime passenger link", he added.
Work on the project first began in 2019, but has been hit by multiple delays caused by Covid-19 lockdowns, material shortages, and unexpected structural issues, with the completion date now expected to be 2023.
Mr Crookall told politicians the rising costs included the protection of the quay walls from scour damage caused by ferry propulsion systems, which had increased from an initial estimate of £166,000 to more than £10m.
Calling for urgent scrutiny of the scheme, Claire Christian MHK described the handling of the project as "catastrophe" and a "public embarrassment to the Isle of Man".
John Wannenburgh MHK said the decisions made by the Department of Infrastructure (DOI) had been "a shocking way to run a project", while Daphne Caine MHK said the department needed to "get a grip and get it done".
Amendments requiring the DOI to submit a cost breakdown and other records to a Tynwald scrutiny committee, and for that committee to report back to politicians in January 2023, were also approved.
The Princes Half Tide Dock site was leased to secure strategic ferry links to Liverpool through construction of a terminal and linkspan to accommodate the Isle of Man Steam Packet Company vessels.
Intended to replace the existing Pier Head facility, it is designed to accommodate 1,000 passengers and 200 vehicles, as well as emergency freight.
Related Internet Links
The BBC is not responsible for the content of external sites.