Jersey's police chief 'kept secret files' on States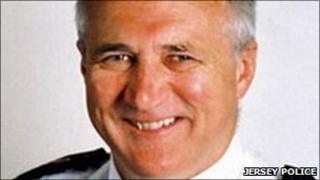 An investigation has found Jersey's chief of police ordered "secret files" to be kept on the island's politicians.
The inquiry by Wiltshire Police found Graham Power had files made up after plans for a formal vetting procedure for senior positions was rejected.
Mr Power said the files were not secret and he had not targeted members of the States.
The inquiry started in 2008 into how he had handled the abuse inquiry at former children's home Haut de la Garenne.
The Wiltshire Police report said Mr Power's concerns suggested there was a national security risk to the island, but it found these concerns were not justified.
Secret intelligence
It found each file contained information on politicians including photographs, personal details and dates of election.
It argued by opening the files he may have been seeking to develop an informal vetting system, but there was no evidence the move was aimed at undermining democracy.
It suggested the collection of the data "wasn't an attempt to undermine democracy but a poorly executed exercise... of naivety, poor management and disregard for data protection".
Mr Power said there were circumstances where checks on those in power in the island were needed.
He said: "In my time two or three politicians did volunteer to be vetted by secret agencies in the UK so that they could be briefed on sensitive material in the event of an emergency.
"You'd expect for example, if there was a terrorist threat to finance centres and there was secret intelligence coming out of the UK, we'd want to sit down with a selected group of politicians and talk to them about the secret intelligence and about what Jersey ought to be doing.
"Clearly the agencies in the UK want some control over that. They want to know who you are going to talk to and what you are going to tell them."