Acting Jersey police chief 'disappointed' at leaving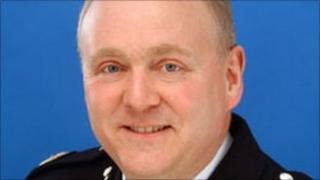 The Acting Jersey Chief of Police, who resigned this week, has said he was disappointed to be leaving the island.
David Warcup is leaving at the end of the year after what he called personal attacks on his integrity, plus delays in appointing him police chief.
He said that he would be leaving with many fond memories of Jersey since he was appointed in 2008.
He added that he believed that islanders still had confidence in the States Police.
'Positive things'
Mr Warcup is former the police chief of Northumbria.
He said delays in the States' validating the appointment and political hostility directed towards him are the reasons for his decision, as well as "persistent attempts" to undermine his authority.
He said: "I will not go away, however, bitter and resentful to Jersey.
"I think Jersey has many positive things to offer, not only to policing but in many, many other respects.
"I will go away with many fond memories, but I will also go away disappointed that I was never able to fulfil my role and become the chief officer of police."
Home Affairs Minister Ian Le Marquand told the States he was "extremely saddened" in Mr Warcup's decision to leave.
He said a process to find a new chief officer was to start and he hoped to have appointed one by the end of September.